No foreign exchange trader can ignore the importance of news to foreign exchange markets volatility. Geopolitical developments, peace or conflict situations, financial and economic data releases such as macroeconomic figures, and natural disasters all can have a significant impact on forex markets. The highly dynamic, foreign exchange markets need to keep tracking news developments.
Pay close attention to the timing and importance of this news impact, or you will find that this news is already " yesterday news."
07 April, 2020
The pound fell against the dollar and euro on Monday after British Prime Minister Boris Johnson was admitted to hospital for tests after showing persistent symptoms of the coronavirus. The yen fell ag
Based on the early price action and the current price at .6050, the direction of the AUD/USD the rest of the session on Monday is likely to be determined by trader reaction to the uptrending Gann angle at .
The Monetary Authority of Singapore (MAS) said on Monday it will begin the disclosure of its foreign exchange intervention operations in April to enhance the market's understanding of its monetary policy stance.
Prime Minister Mahinda Rajapaksa, who is also Finance Minister, has issued an Extraordinary Gazette suspending Sri Lankan Citizens from making payments through Outward Investment Accounts for overseas investments for three months.
Let's find out trade setups for the U.S. session. Gold may continue to be in "wait and see" mode because traders continue to observe how long it will take the economy to drag from depression. Meanwhile,
Here is what you need to know on Tuesday, April 7th: The market mood was positive as there have been signs of flattening coronavirus-related curves in Spain, Italy, and New York.

Currency interventions are integral to MAS' management of its Singapore dollar-based monetary policy. MAS intervenes in the foreign exchange (forex) market as and when needed to keep the value of Singapore's currency within the policy band's boundaries. This means it will buy or sell the currency to ensure domestic price stability. MAS said in ...
As on March 27, forex reserves totalled $11.2 billion, down from $12.8 billion as on March 6. Pakistan last year had entered into a programme with the International Monetary Fund amid a yawning current account deficit and depleting reserves that have been shored up with temporary deposits from friendly countries like Saudi Arabia and China.

The yen fell on Monday after Japanese media said Prime Minister Shinzo Abe may declare a state of emergency as early as Tuesday to curb an alarming spike in coronavirus infections. The pound trimmed l

The pound fell against the dollar and euro on Monday after British Prime Minister Boris Johnson was admitted to hospital for tests after showing persistent symptoms of the coronavirus. The yen fell ag
How to interpret data
We should only focus on high impact news that has the potential to generate big Forex moves, and it is key for you to know which data is important like:
Interest rate decision
Retail sales
Inflation (consumer price or producer price)
Unemployment
Industrial production
Business sentiment surveys
Consumer confidence surveys
Trade balance
Manufacturing sector surveys
Market Opinions
Any opinions, news, research, analyses, prices, other information, or links to third-party sites contained on this website are provided as general market commentary and do not constitute investment advice. YSI Fx will not accept liability for any loss or damage including, without limitation, to any loss of profit which may arise directly or indirectly from use of or reliance on such information.
Third Party Links
Links to third-party sites are provided for your convenience and for informational purposes only. YSI Fx bears no liability for the accuracy, content, or any other matter related to the external site or for that of subsequent links, and accepts no liability whatsoever for any loss or damage arising from the use of this or any other content. Such sites are not within our control and may not follow the same privacy, security, or accessibility standards as ours. Please read the linked websites' terms and conditions.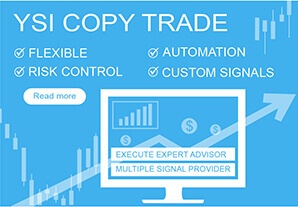 Need Help ?
Please feel free to contact us. We will get back to you with 1-2 business days. Or just call us now
Open Account